6 Efficient Management Tactics to Keep Your Team Organized & Engaged
By
Ryan Fick
Modern business can be fast-paced and heavily tech-oriented. Despite this, the human component of your business, your team, is one of the most important assets you possess.
If you've hired properly, you've surrounded yourself with bright, talented, and ambitious people who you think can make a difference to your business. This means you're halfway along the road to success.
Unfortunately, bright as they may be, people are still people. Left entirely to their own devices, it can be difficult to get the best out of even the most talented teams, especially if they lack any organizational structures or support.
Additionally, since research from Gallup suggests as much as $605 billion is lost to employee disengagement annually, combating it is crucial if you want your business to thrive.
It can be immensely difficult to make sure employees are fully engaged with their work.
Especially if you don't know where or how, to begin.
To get you through this first hurdle, we've outlined some simple, but effective team management tactics that are guaranteed to keep your team organized and engaged.
How to keep your team organized and engaged
The human side of any company is the most important part to get right. Without a talented, dedicated team that cares about the work they're doing, becoming a success is next to impossible - no matter how great the products or services you provide.
It's also one of the most tricky.
Different generations, technological developments, and types of business require unique approaches. Getting everyone on the same page can take a lot of work. Luckily, by implementing the tactics we've listed below, your team is guaranteed to be on the right path.
1. Utilize a people management system
Management is tough, even for the most experienced managers.
That's why modern software solutions have become a major asset in today's increasingly complex business world.
Depending on the size of the team you're managing, overseeing and orchestrating the day-to-day going on can often feel like a chore. That's because there are dozens of factors that go into managing employees today.
Without software solutions, it can be easy for things to get away from you if you're not careful.
That's where a great people management system comes in handy.
Software solutions like Leapsome (one of the most powerful and effective management systems), one of the most well-known Lattice competitors, have an amazing capacity to reduce your workload as a manager. By automating, collating, and organizing everything related to your staff and their performance, you can easily monitor their productivity.
This improved engagement, efficiency, organization, and smarter, more informed decision-making are all direct benefits of utilizing this type of technology.
The first step starts at the top if you want to ensure your team is more engaged and organized.
2. Reward good work
Employee disengagement is one of the most feared concepts in business.
That's not surprising, given findings from Gallup suggest that actively disengaged employees cost organizations as much as $605 billion per year. What's as horrifying is that the same report claimed that 85% of employees are disengaged at work.
This ultimately hurts your business and its bottom line.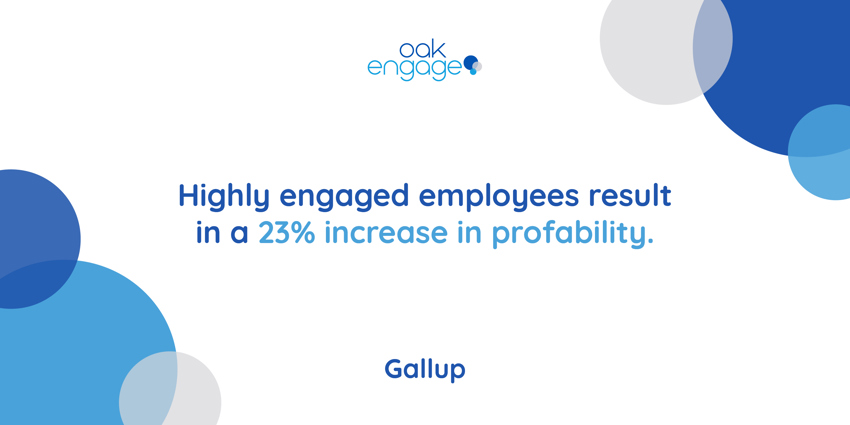 Luckily, employee disengagement has a fatal flaw that's relatively easy to implement: rewarding and recognizing your employees.
Rewards that focus on the well-being of employees can have a major impact on their engagement at work. As much as they're aware they're being paid to work, having additional incentives can make them put in the extra effort that can be a major difference maker for your business.
The ways in which you can do this are practically endless.
Whether someone nails a presentation, landed a big client or goes the extra mile, it's well worth investing in rewarding them. Not only does it boost morale, but it creates more positive workplace energy altogether.
Make sure you choose rewards that matter to your employees, though. A signed card, for example, after landing you a million-dollar contract may not be the best way to go.
Knowing when, where, and how to go about recognizing your employee's efforts can go a long, long way.
3. Ensure effective communication
Whether you're working with a team of fifty or five, good communication is the epitome of effective modern management.
Facilitating communication should be one of your top priorities.
While not everyone on your team will necessarily be involved with every project, having open and clear communication is incredibly important. This ensures everyone is kept in the loop and updated about goals, deadlines, and changes in the day-to-day going on.
Segregating information may have worked in the past, but today's employees find tremendous value in knowing what they're working for. Open communication also enables your employees to come to you about problems, ideas, and information that may help you improve your business as a whole.
Open communication isn't just good marriage advice, it's good corporate advice as well.
Whether you decide to create dedicated Skype groups, email chains, or platforms like Proofhub or Slack, open communication is a surefire way to improve your team's organization and engagement.
4. Delegate, educate
Anyone who's been in management knows that half of what makes a manager successful is their ability to delegate tasks.
Micromanaging is not only irritating, but it's also decidedly ineffective. It makes you unable to focus on the big picture and shows an inherent distrust in your team that they'll definitely feel.
So rather than take that grating approach, utilize your delegating skills to get work done faster, foster better communication and engagement and even start preparing your team for leadership rolls down the line. Trusting in their judgment and decision-making can be incredibly rewarding if it's done right for your business as well as you personally.
If you're the only one making any calls or with any responsibility, it can be easy to forget something or make a mistake.
By involving more members of your team and assigning them various responsibilities, you reduce the chances of that happening. Make sure to delegate based on the strengths of each team member and the skills they possess respectively.
Delegation allows team members to actively engage with their tasks as well as those around them. Ultimately, people are more focused and productive when they're given responsibilities based on their skills.
Learning to delegate tasks will see your employee engagement skyrocket as well as your productivity and invariably, your profits as well.
5. Provide regular feedback
Employee feedback is vital if you're looking to improve your team's engagement.
Feedback is a great way to open a clear line of dialog between management and employee.
It's a useful tool to motivate, educate and clarify what you want and expect from your employees. This enables them to develop and grow their skills which ultimately benefits your business.
Frequent, constructive feedback can be a useful tool when done right. Ultimately you want to correct what's gone wrong and acknowledge what employees are doing well. This is incredibly helpful when it comes to keeping your team engaged with the work they're doing.
Note that feedback can, and should be a two-way street. If you want a genuinely open line of dialog, getting feedback from your employees can allow you as management to identify weaknesses and improve on them.
Both parties should remember that feedback isn't a personal attack and should always be approached with a positive mindset.
6. Utilize team building
Never underestimate the power of positivity.
Employees that are treated well, experience a positive workplace environment, and are rewarded for their work are much more engaged at work. They're also more likely to stick around.
One of the best ways to create this positivity is by implementing team-building exercises or activities. Fun, lighthearted, and group-oriented events can genuinely foster a sense of camaraderie at the workplace.
Increased collaboration, teamwork, and engagement are direct results of team-building activities. Hosting events that are fun and also utilize skills like planning and communication can have a major impact on these skills in the workplace.
Whether it's paintball, rock climbing, escape rooms, or any of the other hundreds of team-building exercises out there, the most important thing is that it's fun. Your employees should want to take part in it and not see it as a chore.
Getting your employees to engage with your team-building is guaranteed to translate to having a huge effect on their engagement at work.
The rundown
Any business is only as good as the team behind it.
To be successful, this requires that the team is supported by great organizational structures that set them up for success.
Incorporating technological solutions, open communication with employees and effective power structures in place are the best ways to do this. The more support you give your team, the better they're going to perform at work.
Especially when these structures are combined with management tactics that allow your team to become fully engaged with their tasks, this may sound simple, but full engagement is often underestimated when managers look to improve productivity.
That mistake can be devastating.
Engagement has massive potential to improve your team's productivity. That's why we've encouraged simple but efficient tactics to improve engagement.
Team building, constructive feedback, and rewarding and recognizing performance have been shown to have an incredible impact on employee engagement. If you want your team to perform at their optimal levels, it's these three tactics you should start with.
If you want to see your business become a success, keeping your team organized, engaged, and effective is essential.
Business success can often be seen as a solo venture. Anyone who's led a business knows that it is not.
Author bio:
Ryan Fick is a Cape Town-based, internationally-raised, opinionated writer who is passionate about politics and social justice and a firm believer in the link between "Amandla" and "Awethu." With a background in Journalism, Travel, and all-around Content Writing, as well as a burgeoning interest in all things SEO. He is a perpetual knowledge seeker who knows enough to know he doesn't know it all.
Back to Small Business blogs