Social Selling: 8 Proven Tips to Grow Your Sales in 2023
By
Gaurav Sharma
Do you want to implement a practical social selling strategy that will help you to find, connect, and generate more potential leads and drive more sales? Who doesn't?
Every business owner, whether B2B or B2C wants to become a social-selling superstar. Why?
Because potential customers are using social media to research, connect with brands, and purchase products directly on social media.
And businesses of all kinds are leveraging social selling to engage and influence new and potential customers.
Here is the proof.
According to a recent Sprout Social survey report, 34% of consumers say they currently use social media to learn more about products, services and brands, and 26% use it to actually make a purchase: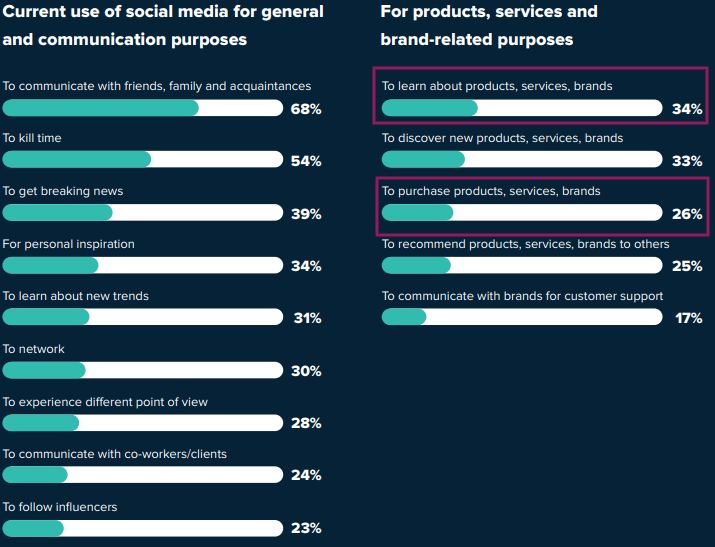 Image via Sprout Social
Further, 72% of companies are currently using social media for customer engagement, 67% for brand awareness, 61% for lead generation, and 68% for sales.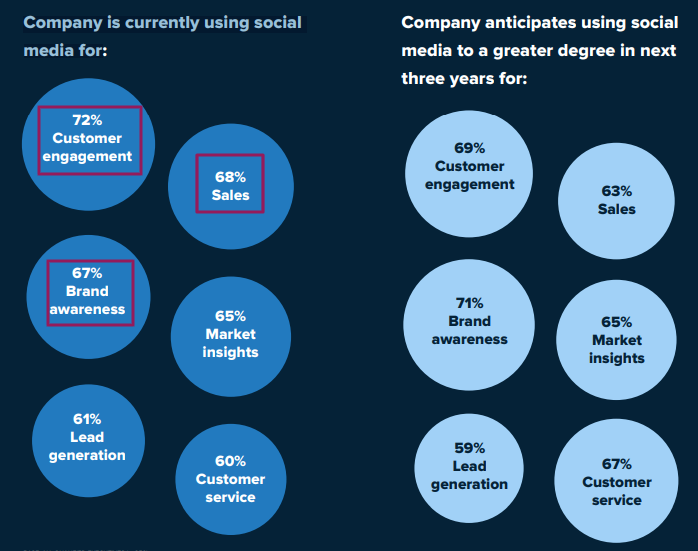 Image via Sprout Social
What does this mean?
If you're not already engaging in social selling, then you're losing out on a great opportunity to connect, build relationships with your customers and prospects, and boost sales for your business.
But social selling is not an easy task. According to Socialinsider's report, 65% and 34% of social media marketers list generating engagement and sales as their greatest challenges.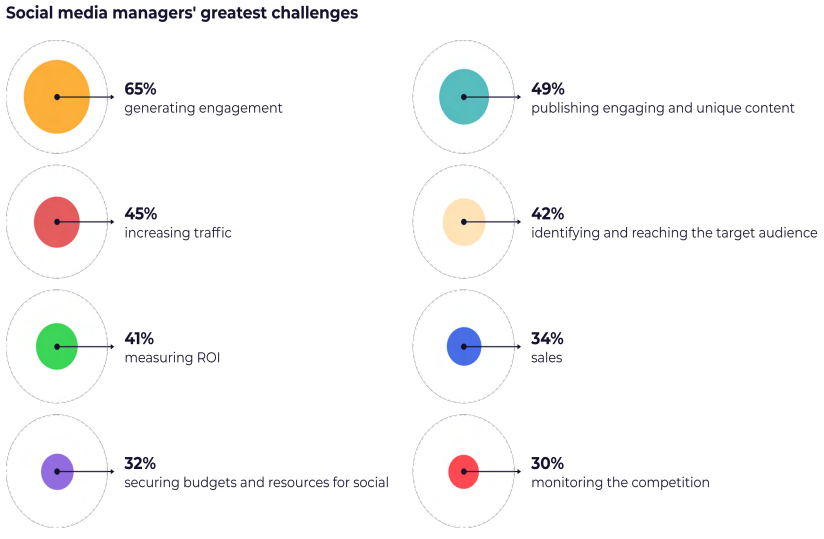 Image via Socialinsider
And that's why, I'm going to teach you practical social selling tactics to boost your sales in this post.
Let's get started.
8 Practical Social Selling Tips to Double Your Sales
Follow these proven tactics to successfully engage in social selling for your business and boost your sales.
1. Know Exactly Who to Target
Social selling is the process of using online channels such as Facebook, LinkedIn, Instagram, Twitter, and others to target prospects, naturally and non-intrusively engage with them, and build relationships.
What's more?
Social selling can streamline lead generation for your brand. But before all that happens, you must understand who your target audience is on social media.
Because even if half of the world's population is on social media, your target customers represent only a small fraction of that number.
Understanding your target audience helps you create content that's tailored to people who are actually looking for it.
Here's how to find your target audience on social media:
Create

buyer personas

to identify a unique segment to target.

Find out what channels your audience is most active on.

Leverage the native audience insight tools on your social media platform.

Look at your competitors' target audience for insights.

Send surveys to social media followers to identify those who are likely to be interested in what you offer.
Leveraging a keyword research tool like Semrush can help you get lots of insights into your audience and competitors. Read this Semrush review post on Attrock to understand how to use the tool effectively.
2. Determine the Most Relevant Social Networks
When it comes to engaging in social selling, you might think of using the most popular or largest social network.
But that's not the right approach. Each social media platform appeals to a unique demographic.
For instance, according to a recent Edison Research report, here are the age groups of most social media platforms.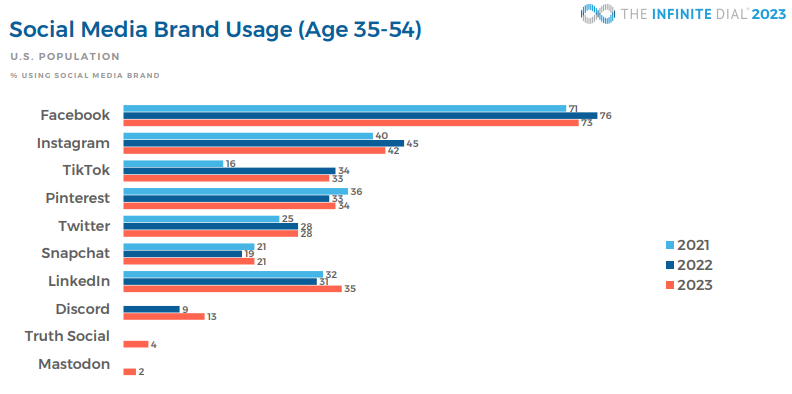 Image via Edison Research
Facebook and LinkedIn: Age 35-54

Instagram

, Snapchat, and TikTok: Age 12-34
Besides, different platforms require varied types of content. For instance, short videos, blog posts, news and curated content are best suited for Facebook and Twitter users.
On the other hand, high-resolution photos, and Stories/Reels are useful on Instagram, whereas infographics can do better on Pinterest. Long-form videos are suitable for use on YouTube.
For LinkedIn audience, you'll need to share professional content and company news. You need to identify platforms where your audience is most active and establish your presence there.
Be guided by the types of products you offer and the type of content your audience wants to see.
3. Keep Your Social Media Profiles Optimized and Updated
Once you've identified suitable social media platforms, ensure your profile is optimized for social selling.
A well-optimized social media profile has the following elements:
A professional profile picture and cover photo

A clear and concise bio

A link to your website or landing page

Contact details

Keywords related to your industry
Ensure your profile is updated frequently with the latest and relevant content showcasing your product or service. Here is a great example of a LinkedIn profile optimized for social selling: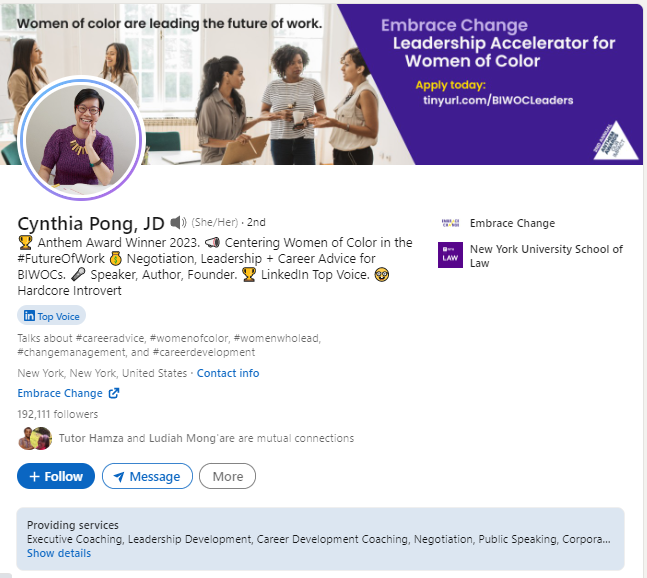 Image via LinkedIn
As you can see, Cynthia, a career consultant speaks directly to her target audience right from her profile cover photo.
4. Create Valuable Content to Establish Your Brand
Creating valuable content can help to build trust, and establish your brand's credibility, authority, and thought leadership.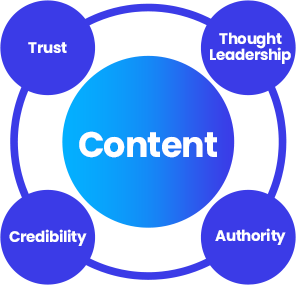 Image via Sales For Life
By sharing relevant and valuable content with your audience, you can greatly boost customer retention too. That's because they'll continue seeing value in your brand.
That said, you should avoid writing outrightly promotional content as it could drive potential customers away.
Instead, focus on creating interesting, valuable, and shareable content that addresses your audience's pain points and helps them find solutions to problems they are facing.
For B2B brands, you could share a mixture of your content and that of other industry experts that resonates with your brand.
You can share the following content with your social media audience:
Live videos

Blogs

eBooks

Podcasts

Videos

Webinars

Original research
For instance, if you offer expense management software, you could create insightful blog posts or videos that show your audience how the software can help to optimize employee spending by automating all time-consuming and error-prone tasks.
5. Build Your Credibility
Nearly all online shoppers, 99.9% to be exact, consult reviews when shopping online.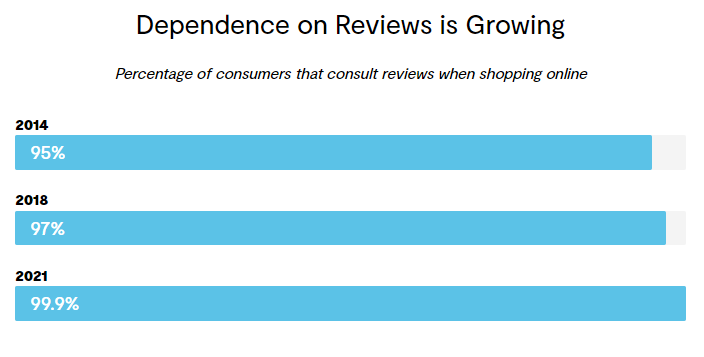 Image via Power Reviews
Additionally, according to a recent social shopping survey, a friend's recommendation and comments/product reviews are the most impactful reasons consumers purchase from social media.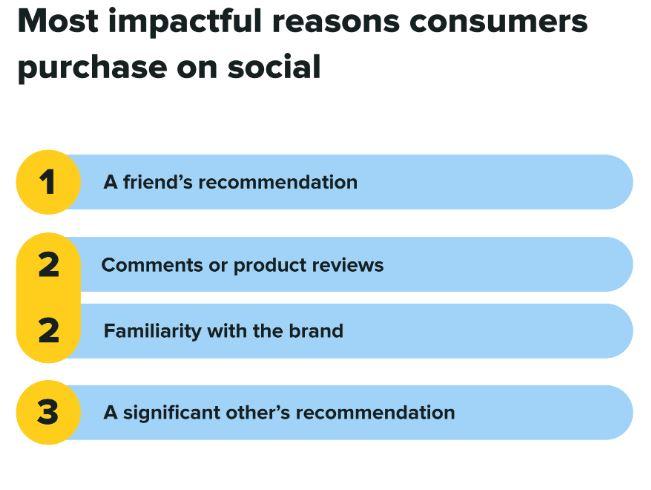 Image via Sprout Social
If you already have loyal customers, you can ask them to share their experiences with your products and post them on your social media profiles.
This is one of the best forms of ambassador marketing where you turn your loyal customers into your most influential salespeople.
6. Listen Tactically and Build Relationships with Your Target Customers
Social selling isn't about pushing your products to the market but finding, connecting, building, and nurturing lasting relationships with your target audiences.
No one wants to be sold something immediately after they become aware of it.
Pay attention to what people are saying about your brand, product, service, industry, as well as your competitors.
Instead of selling something to them, find out what they care about, show interest in it, and make a conversation around it.
Be human and real. No matter how good your product or service is, if you don't show interest in what your audiences care about, they will not bother to do business with you.
Most importantly, deliver unmatched customer experience through social media to get your prospective customers to believe you care about them.
7. Engage Proactively and Meaningfully to Nurture Prospects
Look at how Wendy's is engaging with its audience on Twitter. It doesn't hard-sell their products, but makes its followers laugh.
Apart from sharing valuable content, another handy way to nurture prospects is to engage with them proactively and meaningfully.
You could do this by liking, sharing, or commenting on your audience's posts.
While you are focusing on nurturing prospects, it's imperative that you use rely on a good customer service solution to deliver top-notch customer service to your existing customers. Remember happy and loyal customers are always your top ambassadors.
8. Track and Measure Your Social Selling Success
Tracking and measuring your social selling efforts is a crucial part of tasting success on social media.
After all, without analyzing your performance regularly, you'll never know whether your efforts are generating any results or what needs to be improved.
Monitor your common digital marketing metrics like engagement levels, follower growth, and conversions.
Specifically, determine which posts are generating the most engagement, which platforms are driving the most traffic, and which campaigns that are driving high conversions.
You can leverage your social media platform's analytics data to get all this information. Use it to improve your strategy.
Conclusion
To drive more sales on social media, you need to build solid relationships with your target audience, establish brand credibility, and provide value to your audience constantly.
Use the tips shared in this article to engage in social selling efficiently.
Learn more about Social Hire
We won't just do social media management. Social Hire will work with you to ensure your business sees great value from the service and that your team gets the most out of the service. Our social media experts are driven by the desire to make a enhancements to your social media marketing and reaching targets in a way that realistically makes a difference to your business goals.
What the Social Hire gang loves is making a difference for our clients, and we don't want to waste your, or our resources on campaigns that aren't right for your organisation, if it doesn't get your organisation the difference you need - we prefer a better approach. When your business utilises social media management, Social Hire get your brand the exposure it needs and offer your business the lift it needs to improve.
The social media marketing team in our company are the best in the business at helping our partners enhance their online marketing. We create and implement original social media marketing plans that help our customers accomplish their organisational objectives and build up their online footprint.
Our team of managers are a team that assists our partners improve their digital presence by producing online marketing services on a regular basis. Our service is transparent and economical, which ensures that you get a great service and results that make a difference when you utilise our services. We arrange many different marketing services for enterprises from small businesses to large corporations to help make the most of of your company's digital and social marketing.
You might like these blog posts How to Use Social Media to Find Work (and Business Partners), Targeting Your Ideal Customers Using Social Media, Why Continuity is Essential for Modern Businesses, and 6 Key Steps To Social Media Success.
Back to Small Business blogs