How to Create A LinkedIn Data-Driven Marketing Strategy: A Quick Guide
By
Gaurav Sharma
LinkedIn is one channel every marketer should leverage to drive traffic and increase conversions.
Besides being the largest professional network, LinkedIn has about 810 million users.
This is a large social audience to work with, which makes having an effective social media strategy around the LinkedIn platform for your business.
With LinkedIn, you get to not only share content but also create valuable partnerships, especially as a B2B business.
Furthermore, LinkedIn provides valuable tools such as analytics that help you track your marketing performance. If you are not much aware of LinkedIn and another digital marketing campaigning then in this case you can hire a good digital marketing agency to get desired results for your LinkedIn and other digital marketing campaigns.
Apart from this, you can integrate your profile with data integration software to get all prospective leads automatically for your business.
This, integration help in scraping data easily those are very useful for your marketing strategy.
So how do you make the most of this channel as a marketer?
Before we discuss this, let's first explore why you need a LinkedIn marketing strategy.
Why You Need a LinkedIn Marketing Strategy
Companies focus their social media marketing on Facebook, Instagram, and Twitter. That's easily justifiable. They're the most popular social media platforms.
But did you know that LinkedIn is the best platform for lead generation?
This is according to a Hubspot study that found the lead conversion rates for LinkedIn to be close to 3x higher than Facebook and Twitter.
Image via Hubspot
Furthermore, many B2B companies get 80% of their leads from LinkedIn.
This goes to show how LinkedIn is one social media channel no marketer should overlook.
You need to create effective LinkedIn strategies to generate leads and client interest from LinkedIn.
Marketers also use this platform to find out the email addresses of their prospective clients using LinkedIn email marketing tools. Now these email ids can be of potential clients or even potential business partners who would help your business grow.
Now that we've established its significance, how do you then ensure you make the most of these LinkedIn searches benefits?
Here are some practices to include in your LinkedIn marketing strategy.
LinkedIn Marketing Best Practices
When using LinkedIn to create content, brief posts, or post ads, the more people you reach, the more leads you generate.
The following tips will help you reach a wider audience. Here we go.
Optimize Your Content For Engagement
When planning content for your LinkedIn page or profile, you need to optimize it to capture your audience's attention.
This platform provides good results for your small business social media activities. You can't avoid LinkedIn while building your social media strategy.
How do you do that?
One way is to include images and videos in your posts. This ensures your audience engages more with your content.
If anything, LinkedIn lists this as one of the best practices to drive engagement on their pages.
These are all achievable, easy-to-implement strategies that can get you a lot further in your marketing.
You can go a step further and use email marketing tools such as LinkedIn InMail to retain the audience you just built. This way, you build a relationship with them on a personal level.
Another practice to optimize your posts is creating both brief and lengthy posts.
You can use the lengthy content to provide information, explain your products, and address concerns. This helps build relationships with your audience as well as establish you as an expert in your industry.
Mixing that with quick, brief posts from time to time keeps your audience engaged.
You don't want to overdo short posts and show little value. You also don't want to keep everything lengthy and bore your audience.
Post Thought Leadership Content and Incorporate Hashtags
This is one easy way to get started building an audience on LinkedIn if you're wondering where to begin.
If you want to appeal to your target audience, posting about their interests is one way to go.
Look around your industry and address your target audience's concerns. This could include how-to posts or other insightful content. The goal is to address your audience's pain points and provide solutions to their problems.
To reach the right audience and make your posts easy to search, incorporate hashtags. Write Interactive Social Media Posts for LinkedIn to get more engagement.
Hashtags emphasize the main message your post is addressing.
When choosing hashtags, you need to make sure they're relevant. However, to widen your reach, you need to also make sure the hashtags are popular.
Popular hashtags get your content to more people, while the less popular ones help narrow your audience down by relevance.
A quick search on the "add the hashtag" section should give you more relevant suggestions. In this way, you can generate good LinkedIn leads for your business.
Post Consistent Content
With LinkedIn, you need to be consistent with the content you post.
Whether you schedule posts to once a week, twice a week, or every day, your audience will be expecting content from you.
Therefore, consistency is key. Why is that so?
When you're consistent with your content, you build your audience's trust in your brand.
To optimize your posting schedule, you need to look at your posts' metrics and identify the ones with the most engagement.
If it has to do with the time or days you posted, or even trends or periods, then use that to maximize your reach.
For instance, if your content gets more engagement on weekdays or afternoons, set those as your scheduled post times and for this, you can use a LinkedIn post scheduler to schedule LinkedIn Posts.
Or you can integrate your LinkedIn account with a chatbot for automating your messaging and sharing content.
Optimize Your Page/Profile For Search
First, you need to decide if your business should use a page, a profile, or both.
For instance, with a profile, you can easily have one on one interactions with your audience.
Pages are easy to follow and attract more engagements compared to profiles. You can also use both by having a personal profile and linking it back to your company page.
Once you've decided which one to use, you need to set up a LinkedIn profile and optimize it for search on LinkedIn and other search engines (SEO).
You do this by optimizing it for keywords. Use keywords in your page or profile description.
The keywords should best describe your products and services, which is what your audience would search for if they were looking for your company.
Another way to boost your LinkedIn SEO would be by providing links to your LinkedIn page on your website.
This way, your website visitors can also visit your profile. You could also use your employees' LinkedIn profiles to drive traffic toward your company page.
The traffic and keyword optimization help your company profile appear in more searches both on and off LinkedIn.
Track Industry Analytics
LinkedIn has analytics tools that help you track your performance. This includes your page visitors, followers, and updates.
It breaks down your followers in terms of location, job description, and more. Your updates will include all the engagements on your post, such as clicks and impressions.
Here's an illustration of what that looks like.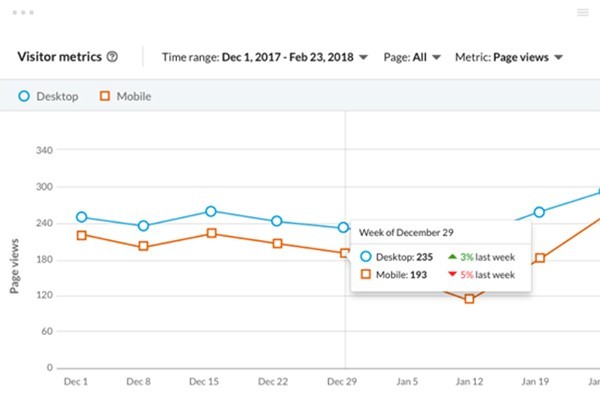 Image via LinkedIn
You can also use other analytical tools for more detailed metrics or to compare your performance across all your social media platforms.
With these reports, you can monitor the metrics that are driving your sales and increasing conversions. This way, you get to adjust your LinkedIn marketing strategy to what works.
It will also help you measure your LinkedIn marketing ROI.
LinkedIn also has a feature called "Companies to Track" that lets you compare your performance against other companies in your industry.
This feature enables you to view their engagements, followers, and other key metrics.
This way, you can benchmark your performance against other successful companies and adjust your strategy.
Which Practices Best Suit Your Business?
Have you had trouble marketing on LinkedIn? Have you been wondering how to get started on your LinkedIn marketing strategy?
With the few tips mentioned above, you can find what works for your business and implement it. LinkedIn is a platform that is constantly upgrading to provide resources for businesses.
With that, you can comfortably establish your brand and keep driving sales on the platform. Good luck getting started!
Back to Small Business blogs