9 Tips To Create a Functional Home Office — Even If You Don't Have One
By
Kiana Mason
Whether you're job-hunting during a pandemic or in a stable full-time position, one thing's true for anyone engaging in the workforce in 2020: You're laboring away at home to some degree — and probably doing so with what you've got on hand.
And while there's no shame in rigging your dining room table and a cardboard box into a standing desk or considering a collared shirt and sweatpants business casual (we're all doing it), it's worth considering how your workspace and your home affects your well-being.
Beyond some basic work from home tips, we're homing in on a few ways to create a work-from-home space that'll promote productivity and positively affect your mood. To help, we also included advice from interior design and psychology experts: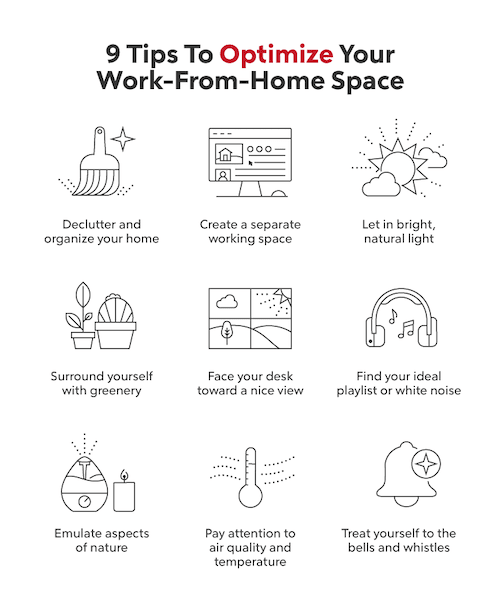 1. Pick Up Your Mess
Your home environment is a direct reflection of you, according to Justin Baksh, LMHC, MCAP. This means that pile of dirty dishes in the sink or unmade bed could translate to frazzled concentration. Do yourself a favor and declutter your home and organize your chaos to proceed through your workday with a clear head. The only caveat: Don't overextend your cleaning if it's going to stress you out. The point of having a picked-up home environment is to promote productivity, not stall your productivity.
2. Designate a Workspace
Work-life balance is something that's probably been ingrained in you since you entered the workforce. But it's a different ballgame when your work and personal life occur under one roof and, in the case of COVID-19, it's the only place both can occur. Physically dividing these facets of your life can help. That might be reconfiguring a room into an office or investing in room dividers to block off your "office" and maybe having set hours to be in that workspace. Once you "clock out," don't return until your job resumes the next day.
3. Soak Up Bright, Natural Light
Here's a bright idea: Embrace natural lighting while you work. It suppresses your melatonin, making you more lively and more productive. Position your desk next to a floor-to-ceiling window, if you have one, or drag it as close to a window as you can. If you have an outdoor space, maybe even consider posting up on a patio for a day, assuming you have the full functionality of an indoor workspace (think: Wi-Fi, electrical outlets, etc.).
4. Invest in Plants
Plants are among the most affordable decor you can find — and their added health benefits make them a steal. Not only do they serve as a natural air purifier, but plants are mood boosters. "[When you] have greenery (fake or real) in your home, it helps remind us of things that are living and thriving," says Rachel Dubrow, LCSW10. "It also helps connect us to nature, which helps with overall mood."
5. Place Your Desk Appropriately
Especially if you have a small home or an apartment, a desk can feel a bit like an eyesore. But you don't have a bird's-eye view of your home when you're deep in spreadsheets or other meticulous tasks. What's most important is placing your workspace in an area that promotes productivity. That area should have a view of the outdoors or any form of greenery because nature promotes productivity.
"I recommend that many of my clients reposition their desk by placing their desk perpendicular to a window wall," Feng shui expert Maureen K. Calamia says. "If that's not possible, I suggest they create a 'mobile' office. This means allowing themselves the flexibility to move to different places in their home that bring joy. These places should have access to nature views, such as a kitchen counter, porch or patio, or living room space."
6. Embrace — Or Mimic — Nature
Views of the outdoors out of your reach? Emulate nature in your home instead by, yep, bringing in plants. Also, diffuse scents or burn candles that smell like foliage and maybe even put on a nature-centric playlist to transport your senses.
7. Put On a Motivational Music
Music, no matter the genre, can affect your mood. Curate playlists that promote productivity. Different genres help motivate different types of people, classical music and meditation music are usually a safe bet. Or you could opt for white noise if you're looking to block out distractions.
8. Purify The Air
The importance of clean air can't be stressed enough. "To help reduce the number of toxins in your space and improve the quality of your living and working environment, consider adding an air purification system," suggests Jillian Prichard Cooke, founder of Wellness Within Your Walls. "Air purification is available for every budget and need, whether it's a HEPA filter or whole system upgrade. Be sure to check with an HVAC specialist to find the system that best fits your circumstances."
9. Splurge A Little
Most of us spend up to a third of our day working. That's a lot of time to spend in one place. Don't skimp on creating an ergonomic and healthy workspace. This could be through a standing desk, extra monitor or an ergonomic keyboard or mouse. Invest in some of the aforementioned items and adopt some of the habits to better your well-being.
Bonus Tip: Focus On Your Relationships
Not all of us are living alone and that means that others can also affect our productivity. Maintaining peace with roommates and family members is imperative, but not always easy. Consider these addition pointers for creating a work-from-home space — and home — that positively impacts your well-being:

Working is a huge part of our lives and, therefore, a huge part of our well-being. Creating a workspace that promotes productivity and positivity won't only pay off in spades for your company, but also for your sanity.
Kiana is a content creator with a passion for writing and all things creative. She loves exploring a diverse collection of topics including business, marketing, productivity and everything in between (including this Rocket Mortgage piece)! When she's not writing you can find her traveling, going for runs along the San Diego coastline and performing music.
Back to Candidate blogs