9 Data Visualization Examples to Grow Your Small Business
By
Ray O'Donnell
Data visualization has become the talk of the town within the business industry. Why? Because data cannot be consumed in its raw format. Besides, the brain digests visuals 60,000 times faster than the normal type of data.
Data Visualization
Even though data visualization has become a buzzword within the business industry, many people still do not understand what it entails. This is the process of displaying data in an easy-to-digest format, especially charts, graphs, maps, and any other type of visual that can easily be read and understood.
The correct data visualization design company that specializes in UI/UX design and development services can assist you in creating more engaging and clear visuals for your marketing campaigns.
Using different visualizations such as 3D designs, pie charts, digital business cards, and graphs makes it easier for viewers to read and comprehend the information without calling for interpretation. Most businesses use data visualization to analyze their data to generate insights used to predict the way forward. Also, marketers tend to rely on visualization to identify patterns and trends within the industry.
By using visualization, you can easily uncover details that couldn't have popped up if you chose the manual approach. This is considered a tactic that mainly brings out quality control, alignment, and accuracy in the decision-making process that boosts your business. Also, you can use a data integration tool to present your data in a visual mode in your online live events.
Types of Data Visualization
There are different types of data visualization that you can choose to aid in analyzing and processing data elements on your behalf. Below are so e of the data visualization types that you need to know.
Charts, Infographics and Graphs
Charts, Infographics and graphs offer a more efficient methodology for uncovering trends and patterns within your data sets. In addition, they provide a swift method of comparing different data elements, thus giving a more straightforward way of conducting data analysis. They are easy to read and comprehend, and they can also accommodate massive amounts of information at a time.
Pie Charts
Pie charts are mainly used to showcase variation within data elements, especially if you want to observe if each part of the whole is pulling a specific amount of weight. Also, you can use this visualization type if you want to identify the most important factors within a particular process or an outcome.
Treemaps Charts
You can use a treemaps chart when dealing with hierarchical data, mainly shown using nested nodes similar to rectangles. The nodes come in different sizes and shapes, making it pretty easy to identify different data patterns and compare quantities. Treemaps Charts come with inbuilt tools that aid in the analysis process, thus making your work easier.
Histograms
Histograms are mainly used to showcase the distribution of your data values and come up with the probability of the outcomes. This data visualization tool can quickly identify whether the process is hovering within the right mean or if the outliers skew results from the data outcomes.
Box-and-Whisker-Plots
This data visualization model enables you to identify whether the outliers are dragging the process up or down. Also, they play an integral role in comparing averages and standard deviations and answering statistical questions.
Data Visualization Examples That Can Boost Your Business
Data visualization is a creative concept that can skyrocket your business performance and increase your revenue generation. Besides, there are different data visualization examples that you can acquire to propagate your business success. Let's check them out!
1. Finance Data Visualization
The finance sector generates a considerable amount of data which may be overwhelming if you do not have a good strategy for utilizing the information. Finance Data visualization makes it easier for finance professionals since it breaks down complex data elements into a simple format that can be easily read and understood.
In most cases, finance data visualization usually tracks payroll, cash flow, expenses, budgets, and other essential financial metrics. Besides, this methodology makes it easier for the team members to analyze all the crucial financial data in a straightforward manner that contributes to the decision-making process. Also, it plays a pivotal role in picking up KPIs and setting up financial goals.
2. SEO Performance Data Visualization
When reporting an SEO campaign, good data visualization can tell an enticing story that is easy to read and understand. This works well, especially if you are dealing with an in-house SEO specialist; your team leaders need to understand how the company website is performing in terms of organic search. However, making this come to life is not simple since the information is collected from different sources.
For this, you need to choose the right tool to import data to Google Sheets. It helps you create data visuals in a more convenient and professional way.
Note that your team members do not have the skills to comprehend technical SEO jargon. This means that you need to develop a unique approach that will enable all your team members to comprehend the SEO report to ensure that you are on the same page. When all the team members are aware of the milestones you have attained, you will be better positioned to propel the business to the next level.
3. Social Media Engagement
Visuals generate more attention in comparison to texts. You can't avoid it while developing your social media marketing campaign. You need to create engaging content for your social media posting to get more engagement. Visual presentation is easier to understand and your target audience always likes more visualization in your social media posting.
For example, live videos are playing a major role in boosting sales over live stream video shopping platforms. In live videos, customers can get instant answers of their queries and they can also feel the real-time actual product condition.
Apart from this, you need to use create a unique brand identity and for this, you need to create a brand logo. You can leverage a custom logo maker to create a custom logo for your brand and use it in your posts to get more personal brand recall. An attractive logo makes a unique brand image in the market.
For example, You get better results through your employee advocacy program if you are helping your employees to create good visuals and ask them to promote your company over social media platforms. It creates a good feeling among your employees and it helps you to achieve more engagement for their social media campaigns. You never get good engagement from the Social media platforms such as Instagram and YouTube without visuals.
4. HR Data Visualization
With data visualization, human resource professionals can easily tell data stories in a more simplified format than the traditional approach. The visualization uses a more structured narrative that directly hits the point, which is vital in showcasing the employee retention rate and turnover in a graphical format.
This methodology allows the CEO and all other senior professionals to be persuaded more easily. In addition, they are better positioned to take a more informed decision that elevates the business's success.
5. Sales Data Visualization
If you are dealing with anything to do with sales, you need to ensure that everything is tracked to the latter. Investing in the best CRM software in USA can provide a provide a visual representation of your sales pipeline. This will help you ensure that all the targets have been achieved and everything runs smoothly. Data visualization gives you a simple way of tracking all your sales operations and enhances the general growth of your business brand.
By tracking all the essential metrics within your sales processes, you will improve customer engagement, increase the customer retention rate, reduce the customer acquisition cost, enhance the average revenue collected per unit, and elevate the customer lifetime value.
The most important metric in the whole process is customer satisfaction. You need to focus on the practices that increase your customer satisfaction. Satisfied customers are the most important assets for your business.
For outdoor marketing, companies can use data visualization more effectively by using creative poster design. They can display the data in a more informative way.
Also, you will easily track the sales KPIs which is vital to boosting your business.
6. Data Visualization in Accounting
Accounting uses different data visualization models to evaluate different aspects and compare data metrics. Also, it helps in identifying patterns and aids in ensuring that you stay on record with the essential events. You can also identify trend patterns by forecasting historical data and ensuring that everything is running on the right track.
Auditors utilize data visualization to assess and choose a specific course of action to attain results with minimal risks. Also, it becomes easier to understand the client better by communicating through spreadsheets and using other visual formats that are easy to read and understand.
using other visual formats that are easy to read and understand.
Apart from this, Marketers and professionals use visuals in the review and comparison posts to present the tools and software in better ways. For example, In this SmallBusinessHQ post on the Incfile alternative, they used each agency's home page visual in the post.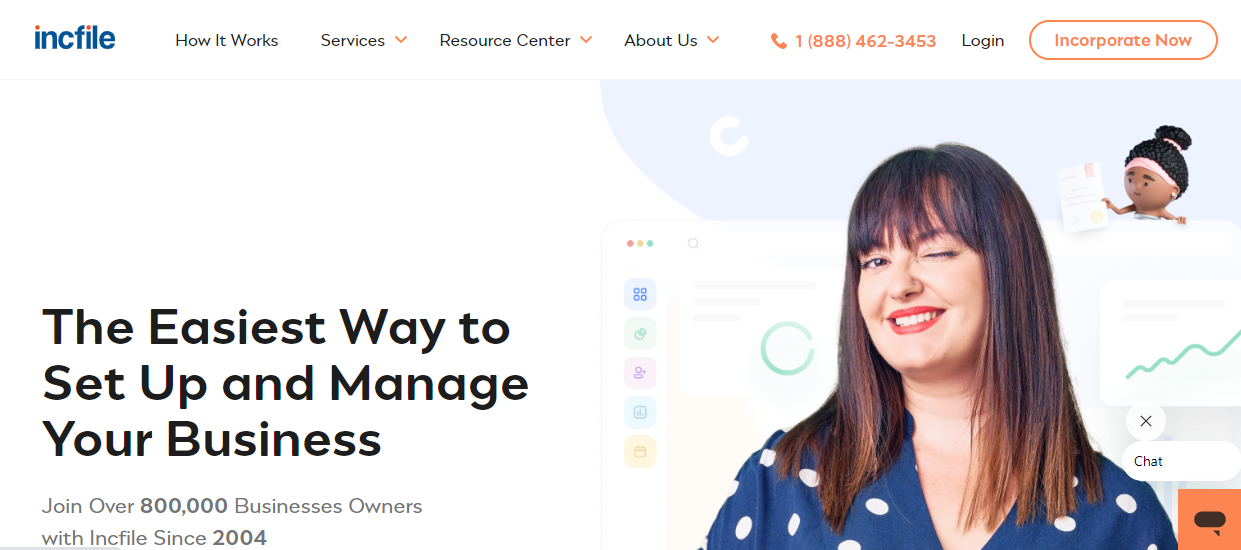 Image via Incfile
7. The Product Roadmap Data Visualization
When conducting a product roadmap, you require testing different points of your project, the milestones you have attained, and the campaigns you have executed within a particular time frame. You can leverage data tools that have the option to extract data and prepare a list of data to create data visualization. Data visualization offers assets that enhance quick assessment of the visuals within the shortest time possible.
Once the assessment is done, taking the next step within the product roadmap process becomes easier and more accurate. It gives you a chance to learn everything within your stage and how you are advancing on your specific targets.
For example, you can share your dental practice data in effective visualization to promote in your local areas. You can show the whole dental practice process and show people understand the value of dental care and it will generate new business leads as well.
8. Project Management Data Visualization
When dealing with massive amounts of complex data, you will automatically need to incorporate data visualization in your operations to make the data easy to digest. Project management requires you to have a keen eye for details to be in a position to uncover all the relevant data variables that are vital to making the project successful.
Data visualization aids in uncovering things such as team performance, target progress, and budget, which can be presented in a visual format to make them easily digestible. This model clearly clarifies the purpose of the data, which will boost the business's success in the long run.
9. Marketing Performance Data Visualization
Marketing professionals generate massive amounts of data from their daily operations. The data is mainly generated from digital marketing campaigns and the market performance figures from the ground. Data visualization takes part in interpreting these figures in b2b marketing analytics of data processors to give you a clear picture of the state of the market and what needs to be done to boost your business.
Also, you can detect the return on investment of your marketing campaigns, the level of performance, and SEO capabilities. Visualization goes the extra mile to analyze social media performance and the goal accomplishment of the marketing efforts.
Bonus Tip: Data Visualization for Developers
Developers mainly use data visualization to cover the gap existing between them and other departments within the business setting. Remember that developers tend to use a more complicated language to analyze reports and different data components that everybody cannot read.
Besides, visualization also aids in tracking real-time data and presenting the project to showcase progress to other team members. By tracking different data elements during web development, it becomes easier to make data-driven decisions that increase the chances of success.
Conclusion
Due to the fact that 90% of the information passed to the brain is visual in nature, data visualization has secured a considerable part of the business industry, especially in data processing.
You should always prioritize the use of visualization any time you are dealing with data that requires in-depth interpretation.
Back to Small Business blogs