How to Create Optimize Product Videos For Your E-commerce Store
By
Ray O'Donnell
In today's competitive e-commerce landscape, product videos have become indispensable for engaging customers and driving sales.
That's unsurprising, with 89% of consumers saying that watching a video has persuaded them to buy a product or service.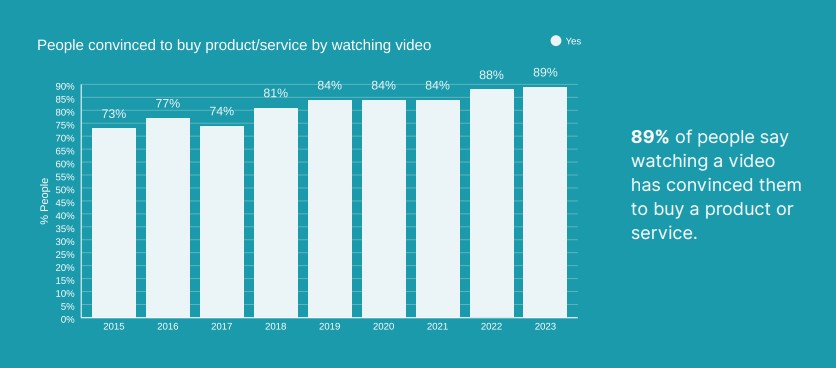 Image via Wyzowl
A well-crafted product video can showcase your offerings in a captivating manner, leading to increased conversions and customer trust.
In this article, we'll explore how to create optimized product videos for your e-commerce store. Doing so will help you maximize these videos' impact and reap the rewards.
Step-by-Step Process to Effectively Create Optimized Product Videos for Your Online Business
As an online store owner, it's reassuring to have a few tips for creating video content at hand. After all, mastering the art of creating and optimizing product videos is crucial for success. Here's how to go about this process.
1. Research and Plan Your Video
Before diving into video creation, conducting thorough research and planning are essential. This is an ideal way to ensure your videos align with your target audience's preferences.
Start by identifying your target audience and understanding their needs and desires. Conducting usability research to understand their preferences, pain points, and interests can help you meet their needs and expectations. Conduct surveys or usability tests to gauge how viewers respond to your video concepts, which will help you refine your storyboard accordingly. Utilize high-quality product photos as a key element in your video creation process to showcase your products effectively.
Moreover, usability research plays a crucial role in refining your product videos. By gathering feedback and identifying pain points, you can effectively address customer concerns.
Conduct surveys or usability tests to gauge how viewers respond to your video concepts, which will help you refine your storyboard accordingly.
A well-structured storyboard is the blueprint for your product video. It allows you to outline the sequence of scenes, plan the narration or text, and ensure a cohesive flow.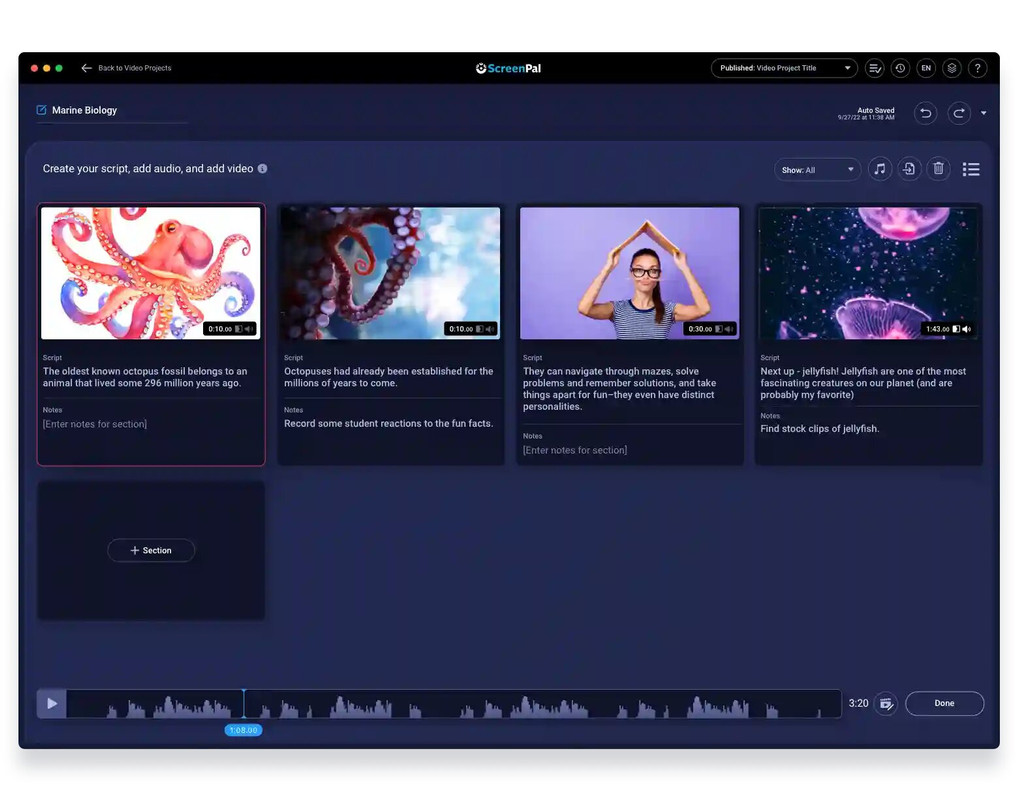 Image via ScreenPal
Integrate key selling points and unique features of your products into the storyboard, highlighting the aspects that set your offerings apart from competitors.
With a solid storyboard in place, it becomes easier to create optimized product videos for your e-commerce marketing mission. Creating a storyboard can keep you focused on emphasizing your products' unique benefits.
2. Create Your Video
To bring your storyboard to life, you need the right equipment and software. Explore various video recording options and choose equipment that suits your budget and requirements.
Some basic requirements include a high-resolution camera, tripod, and proper lighting to capture clear and professional shots of your products.
Setting up your filming location is crucial for capturing professional-looking product shots.
Consider the aesthetics of your brand and ensure the backdrop complements your product. You also want to ensure proper lighting and audio setup to enhance the video's overall quality.
With everything in place, you're ready to start filming your video and showcasing your products in their best light.
Demonstrate them in action and showcase their unique features. While at it, keep your video concise and engaging, focusing on the benefits your products offer to viewers.
3. Edit Your Video
Once you've captured your footage, it's time to edit the video for maximum impact.
You need to invest in user-friendly video editing software that allows you to polish your footage and add finishing touches.
Explore various video editing platforms, and opt for one that suits your needs and proficiency level. Some online course platforms offer tutorials on video editing, enabling you to enhance your skills.
Remember, the magic of video creation often lies in the editing process. Therefore, carefully consider your choices from the rich selection of video editing software for small businesses available.
Use the selected video editing software to trim unnecessary segments, arrange scenes coherently, and add engaging transitions. Including captions and background music can further enhance the video's appeal and create a captivating experience for viewers.
By skillfully editing your video, you can ensure that it effectively conveys your message and encourages viewers to take action.
4. Optimize Your Video for SEO
Creating a brilliant product video isn't enough; it's essential to optimize it for search engines to reach a wider audience.
There are several ways to boost rankings and improve search engine optimization (SEO). They include conducting thorough keyword research to identify the most relevant and high-ranking keywords related to your products.
Incorporate these keywords both strategically and organically into the video's title and description to increase its visibility in search results.
Additionally, adding tags and interactive annotations can boost engagement and lead viewers to explore more of your content.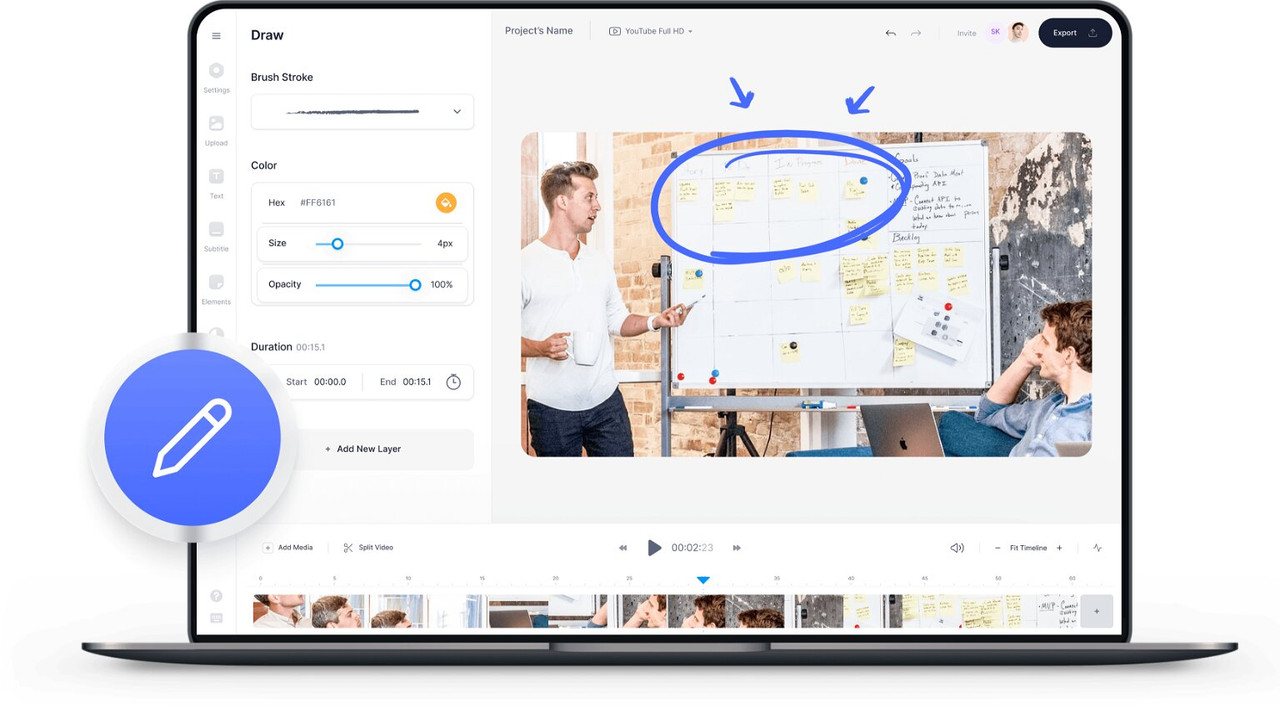 Image via VEED
Relevant tags make your video more discoverable on video streaming platforms. Meanwhile, interactive annotations can direct viewers to your e-commerce store or other pertinent videos. For more on boosting SEO and conversions, read this article on how to create a video marketing strategy by Attrock.
5. Publish and Promote Your Video
Your efforts will bear fruit when you effectively publish and promote your product videos.
Therefore, once your video is ready, it's time to choose the right hosting platform. Evaluate various video streaming platforms to find one that not only aligns with your goals and budget, but also:
Suits your needs
Offers good performance
Provides useful analytics
Alternatively, consider hosting the video directly on your e-commerce website to maintain control over your content and user experience.
Once hosting is sorted out, integrate your optimized product videos directly onto your product pages. Embedding your product video on relevant product page provides shoppers with a visual demonstration of your offerings.
You want to highlight the videos in related product sections to encourage viewers to explore more options. Additionally, share them on various platforms, using e-commerce marketing techniques to engage effectively with your audience.
To increase the video's reach, promote it on various social media platforms. Collaborate with influencers or partners in your industry to expand your video's visibility and attract potential customers.
Create Optimized Product Videos and Reap the Benefits
Creating and optimizing product videos for your e-commerce store is a rewarding endeavor that can significantly impact your sales and customer loyalty.
When thoughtfully executed, product videos become a window into your brand's personality, values, and commitment to excellence.
They empower you to communicate the essence of your offerings. They can also help build trust with potential customers who might otherwise be hesitant to make a purchase.
So, if you want to watch your sales soar to new heights, create optimized product videos for your e-commerce business.
Back to Small Business blogs