How to Generate More B2B Leads to Grow Your Business
By
Gaurav Sharma
For any business to sustain itself, lead generation is an important process. When it comes to the B2B lead generation landscape, a host of tools and technologies are changing the rules of the game.
As a result, B2B marketers everywhere are hard-pressed to calibrate their strategy in this ever-changing field.
If you are stuck in your old ways, it's time to move on and up your game. In this post, let's discuss the latest strategies you can leverage to find high-quality leads for your B2B campaigns.
How to Generate B2B Leads to Grow Your Business
Before we discuss B2B lead generation tactics, it's important for you to understand that they differ from B2C strategies.
The main difference is because the shopping intent for both buyers is different. B2B customers are looking for a product for their business or organization. This makes multiple people involved in the decision-making process. While marketing your B2B product, you need to keep that in mind.
1. Add Lead Capture Forms
Lead capture forms enable you to easily collect contact details from website visitors. To motivate visitors to provide such personal information, you need to give back something that they find valuable.
Webinars, case studies, checklists, ebooks, or white papers — you can offer any of these to capture more leads from your site. For the best results, you should ensure that you only add the required fields in your forms.
If you have an amazing offer, make sure you add that in your lead capture. A discount or a freebie can be a good motivator for people to sign up. It is also a good idea to design these forms in such a way that there are minimum distractions.
To make the process more engaging, you can also add a gamified lead capture form. As it is interactive and has an element of fun involved, it can attract your audience's attention.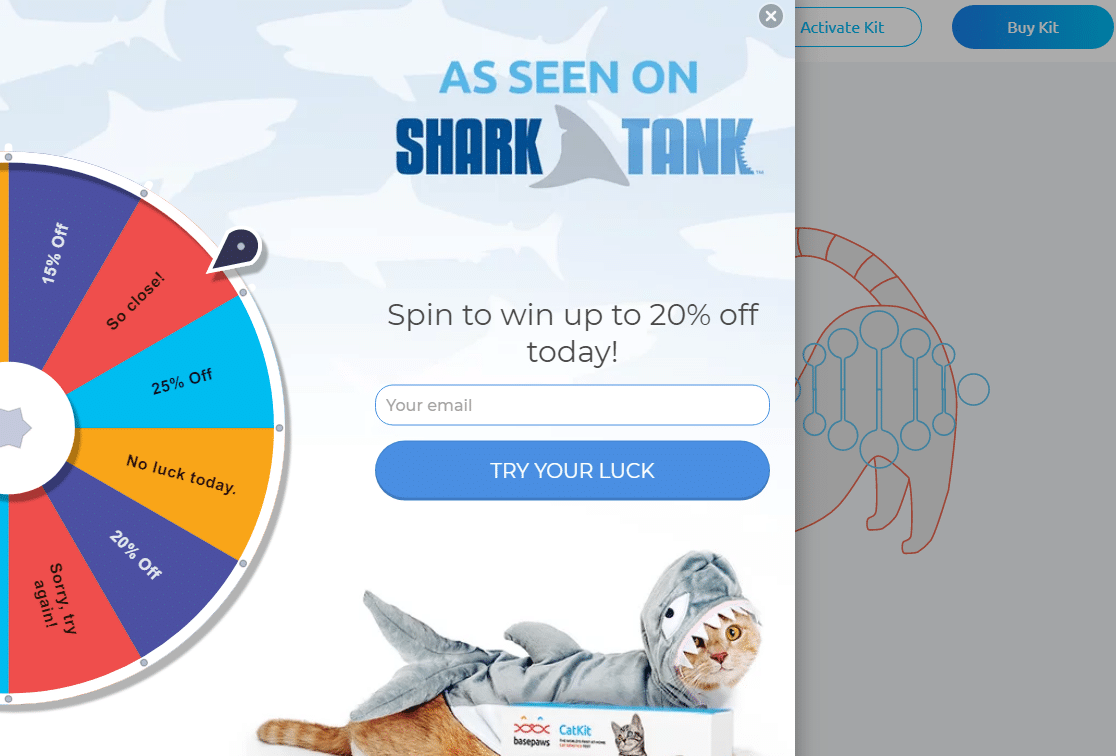 Image via Wpforms
2. Publish Engaging Blog Posts
Before making a purchase, B2B buyers want to make sure that they are investing their money in the right place. So, it is only natural that they are looking for product specifications, cost, and other details as a part of their research.
By publishing blog posts that address these pain points, you can move them along the sales funnel. To ensure that your content is SEO-friendly, you should invest some time in keyword research.
Try to figure out the keywords that people are searching for. You can use a specialized keyword research tool that can help you find the most popular keywords in your niche.
Once you find them, make sure you use them naturally in your content and also include them in headings and subheadings. This way, web crawlers can also get a better understanding of what your content is all about.
If your content gets ranked in the SERPs, you can expect to attract high-quality leads and get more conversions as well.
3. Get Active on Social Media Platforms
Social media can be a great channel to build brand awareness and boost your reach. So, it's important to maintain an active presence on these platforms and publish posts consistently.
When it comes to the B2B space, LinkedIn marketing is crucial. That's because it is the most important platform since it caters to executives and decision-makers.
Make sure your LinkedIn page clearly describes what your organization does, and how your products or services can help marketers. If you have won any awards or have other achievements, don't be shy to highlight them. It helps a lot to grow your dropshipping store's selling.
You can also discuss industry trends and publish educational content in your niche to maintain your visibility on LinkedIn. On YouTube, Instagram, Facebook, and Twitter, you can showcase client testimonials, create product demos, and announce upcoming offers.
What's more?
When you're publishing videos on these platforms, especially Instagram, you can leverage an AI-powered tool like LALAL.AI to seamlessly extract background music from audio files and add that to your Instagram posts. LALAL.AI will allow you to not only extract the background music, but also the vocals from 3 audio tracks for free with no quality loss.
While it is important to be active on multiple channels, make sure you maintain brand consistency everywhere. Use your brand colors and maintain your brand voice across channels.
4. Leverage Automation to Create Effective Email Campaigns
Lead nurturing and building loyalty is a crucial part of getting more conversions for B2B marketers.
That's because buying decisions are not made instantly. After a marketer learns about a product or service, they are likely to spend some time on research and discuss the decision with other professionals.
During the meantime, you need to do your best to keep them engaged. Even others who provided you with their details via lead capture forms need to be engaged.
That's where email marketing comes in. You can send multiple emails to communicate with them consistently.
To make this process less tedious, you can leverage advanced software solutions that enable you to automate the process.
You can set up your workflows based on user behavior, dates, or any other criteria. You can send personalized emails to subscribers who have abandoned their shopping cart and you should buy google business email from G suite reseller for doing this.
This lead generation strategy doesn't require much effort. In fact, it gives you more free time to focus on other important tasks at hand. Additionally, you need to keep secure your email campaigning by encryption with e-Signature. It makes secure your campaigning process.
Pro Tip: You can also run an advertisement campaign over the various platforms with quick lead generation form links and can get good leads for your business.
Conclusion
With the advancement of technology, B2B lead generation strategies are evolving. To keep up with the pace, you should leverage marketing automation. Not only can it help you nurture your leads but also help you save your time.
What does our team do?
The Social Hire team never just do social media.
What the Social Hire gang loves is making a difference for our clients, and we don't want to waste your, or our resources on campaigns that aren't right for your organisation, if it doesn't get your organisation the difference you need - we take a different approach. When your business utilises social media management, Social Hire get your brand the exposure it needs and offer your business the lift it needs to improve.
Our digital marketing managers are the wizards that can give you the insight you need to develop your business. Have you had enough of making complex personnel choices that don't work well for your digital presence?
Is it important to you to increase the digital footprint of your business by utilising digital marketing, but can't work out how to begin?With the professional understanding of our marketing managers working in your business, you can begin to see interaction, brand loyalty and enquiries get better without having to take your team out to spend time on in-depth marketing strategies, or spend money on a internal marketing manager with a view to get results that may not deliver!
Our team are a company that assists our customers further their digital footprint by giving digital marketing on a regular basis.
You might like these blog posts 4 Ways to Generate Leads on a Tight Budget, 6 Action Items to Include on your Social Selling Agenda, 4 Social Media Marketing Tips to Grow Your Small Business, and 5 Ways to Get More Leads for Your Small Business.
Back to Small Business blogs