Visual Marketing for Small Business: Sell Easily Through Perfect Photography
By
Gaurav Sharma
That's where visual marketing comes in. Images are a powerful form of marketing and are very effective for small businesses on a tight budget. How do you ensure your marketing efforts through effective presentation with high-quality photography pay off?
Marketing is the game of effective presentation in front of clients, and customers to convey your message. In b2b marketing, you need to create high-quality and creative presentations. With the help of a presentation maker, you can create effective presentations using images, videos, and texts.
Consider High Quality, Professional Images
The first step is to ensure you're using high-quality, professional images. It may seem like a no-brainer, but remember that potential customers will base their first impressions of your business on the photos they see.
Potential customers will move on to a competitor with better visuals if your photos are low quality, blurry, or otherwise unappealing. Investing in high-quality photography is worth the expense. What's more, the latest digital marketing trends indicate that use of high-quality visual content is the need of the hour to boost SEO and CX.
In addition to being high quality, your images should be aesthetically pleasing. These are images that are well-composed and visually appealing. The colors, lighting, and overall composition should attract.
Create Images That Resonate Well with Your Target Audience
The images you use in marketing should also resonate well with your target audience. These are the people most likely to purchase your products or services. Consider what type of images will appeal to them and make them want to learn more about your business.
Image optimization is also a most important factor and you need to optimize your images using the best image compression software to fast loading over the different platforms.
For example, if you sell children's clothes, your target audience is likely parents or guardians of young children. In this case, images of happy children playing in cute garments are ideal. The pictures should tell a story, speak to your target audience, and encourage them to purchase what you're selling.
Use Images That Make It Easier to Recognize Your Brand
Clients should instantly recognize your brand when they see one of your images. If a potential customer can't tell who you are or what you do based on the visuals, you're not doing it right. Accomplish this by incorporating your company logo, colors matching your branding, or other similar strategies.
You need to create a cool logo that defines your business and creates a personal image of your business in the market. It should be unique in nature and use all characters that define your business. Additionally, try to be consistent with the images you use across all channels. For example, You can go for the gradient logo. It will help you create a unique business image in the market.
Digital business cards are the latest trend in digital visual marketing to share your business details in different online events such as webinars, and online conferences. You can take leverage the available online digital business card creators to create professional digital business cards for your business.
Choose The Right Channels to Share Your Images
Research the various channels available and decide which ones will work best. Some common choices are social media, email marketing, and websites. Each channel has its advantages and disadvantages.
You can use multiple channels to boost your sales using visual marketing. Although, managing multiple channels of data is quite difficult but thanks to automation enabled CRM software makes this easy. These CRM tools stored, and manage different channels of data in an effective way.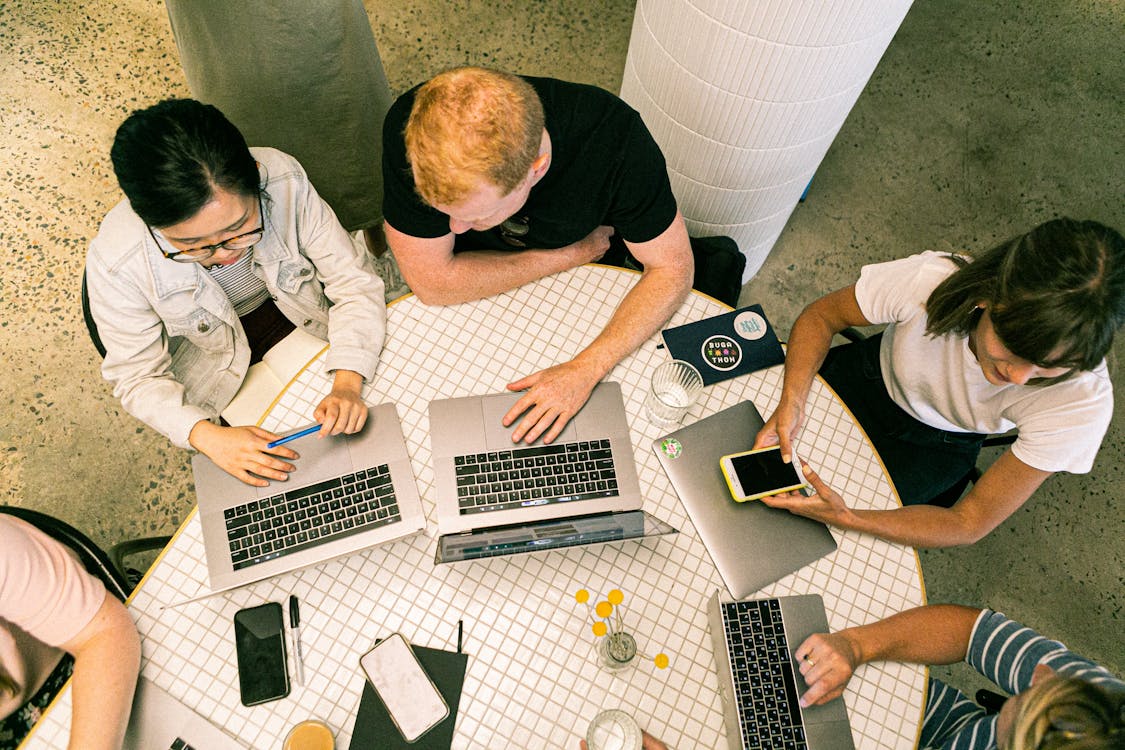 Image Credit Pexels
For example, social media is excellent for reach but doesn't allow as much control as a website. Decide which channels are most important for your marketing goals by considering factors such as reach, management, and engagement.
Also, consider which channels your target audience is most active on. If most of your traffic comes from social media, focus your visual marketing efforts there. However, gradually grow other channels as you have the time and resources.
A great idea is to leverage Instagram Reels to boost the reach of your images. Reels generate a lot of engagement and you can use a mix of images to create a Reel using apps that Famoid has suggested. You could even share these Reels to YouTube and TikTok for driving further engagement.
Include Call-To-Actions in Your Images
Your images should always include call-to-actions (CTAs). A CTA encourages the viewer to take a specific action, such as visiting your website, signing up for your email list, or making a purchase.
The CTA should be short, sweet, and to the point. For example, "Click here to learn more," "Sign up now," or "Buy now." Customers will likely ignore CTAs that are too long or confusing.
You'll have a high bounce rate, and your conversion rate will suffer. Make CTAs stand out by using contrasting colors, adding an arrow, or drawing attention to them. Place in an easily visible location within the image.
Track and Analyze the Performance of Your Images
Use analytics to track the performance of your visual marketing campaign. Doing this will help you determine which images are most effective and where to improve. There are many ways to track the performance of your pictures. Social media platforms such as Facebook and Instagram offer insights into the reach and engagement of your posts.
Additionally, you can use Google Analytics to track traffic to your website. You'll discover which images drive the most traffic and conversions. Use this data to improve your visual marketing strategy over time.
Invest in High-Quality Images
Don't skimp on quality images for your marketing efforts. Low-quality images will make your brand look unprofessional and could turn customers away. Invest in high-quality photos, whether hiring a professional photographer or purchasing editing software.
Understand that the quality of your images is critical if you're selling products online. Customers can't touch or try your products, so they must rely on the photos to make a purchase decision.
Back to Small Business blogs