Influencer Marketing: Is It Worth the Risk?
By
Shane Barker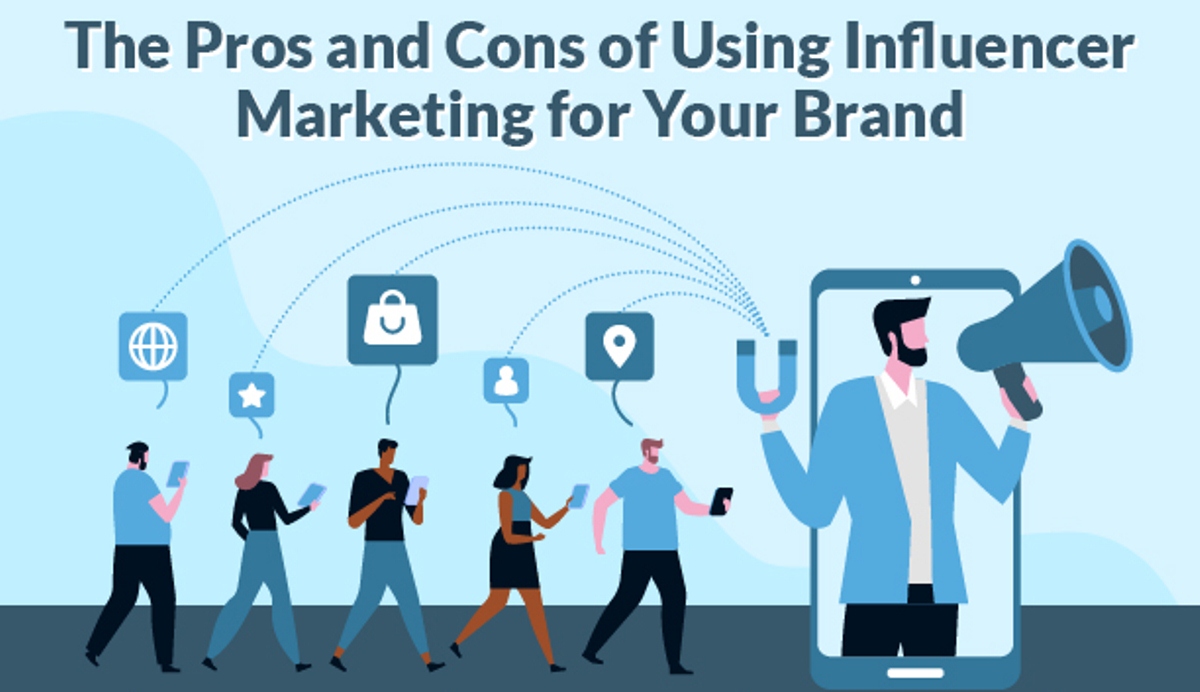 Influencer marketing has become the go-to strategy for most of the brands that want to increase their reach and engage customers.
In fact, 71% of marketers believe that the quality of customers and traffic they get from influencer campaigns is better than that from other sources.
However, this marketing strategy has its own set of challenges as well.
In this article, I'll discuss some of the major pros and cons of influencer marketing. It will help you make informed decisions when running your next influencer campaign.
Let's start with the pros.
Pros of Influencer Marketing
Influencers work hard to build a community of followers who trust their recommendations. They can help you promote your brand to their loyal audiences. They can also help you reach more people than you would on your own.
They Can Instil Trust in Consumers
63% of consumers trust what influencers say about a brand more than they trust the information provided by the brand.
What's more?
40% of consumers start trusting brands because of an influencer.
When an influencer endorses your product, their followers are likely to develop trust in your brand and act on their recommendations.
Influencers can help boost your brand's credibility by posting authentic and genuine content about your brand.
They Can Impact Buying Decisions
Influencers can not only help you build awareness, but can also get consumers to convert into buying customers. You can find influencers by scraping Google, using different platforms and tools, and doing some thorough research.
When they share images or videos of them using your product, they provide social proof. Their followers are likely to trust and heed their recommendations and consider buying your product regardless of whether it is, for example, the sale of e-books, or some other service.
Let's look at the cons of influencer marketing.
Cons of Influencer Marketing
The benefits of influencer marketing outweigh its cons, but you need to consider them before implementing this marketing tactic. Identifying its downsides can help you mitigate problems and make the most of your influencer campaigns.
Partnering with The Wrong Influencers Can Harm Your Brand's Reputation
It may take a lot of resources and time to find the right influencer, but it's worth it.
The wrong influencer may commit mistakes that can cost your brand.
For example, they could:
Ignore the Federal Trade Commission (FTC) guidelines about endorsements
Use bots to increase their followings and engagement
Post irrelevant and spam content
Have accountability issues
That's why it's important to conduct thorough checks before partnering with an influencer.
Luckily, you can hire influencer agencies to help you find the right influencers. These agencies can take charge of everything from influencer selection to campaign monitoring.
Still not convinced if influencer marketing is right for your business?
Check out more pros and cons of influencer marketing mentioned in the infographic below.
Infographic via ShaneBarker.com
The kind of stuff that Social Hire do...
The Social Hire team never just do social media marketing.
What the Social Hire gang loves is making a difference for our clients, and we don't want to waste your, or our resources on marketing for marketing's sake, if it doesn't get your organisation the impression you need - we take a different approach.
Our digital marketing managers are the wizards that can give you the insight you need to grow your business. Have you had enough of making difficult personnel choices that don't work well for your online marketing?
Is it important to you to increase the digital footprint of your business by utilising online promotion, but can't work out how to begin?With the professional understanding of our digital experts working in your business, you can begin to see interaction, brand loyalty and enquiries get better without having to take your team out to spend time on ineffective marketing strategies, or spend money on a internal marketing manager with a view to get results that may not deliver!
Our team of managers are a team that assists our partners improve their digital presence by producing online marketing services on a regular basis. Our service is transparent and economical, which ensures that you get a great service and results that make a difference when you utilise our services. We arrange many different marketing services for enterprises from small businesses to large corporations to help make the most of of your company's digital and social marketing.
You might like these blog posts 6 Mistakes Small Businesses Make with Social Media Ads (and How to Avoid Them), 5 Ways You Can Build Trust By Humanising Your Brand On Social Media, How to Protect Your Social Media Business, and How Will the Internet of Things Affect Social Media?.
Back to Small Business blogs